This post contains affiliate links.
It's safe to say that your dog's health is directly related to his diet, so you must not settle for just any kind of food. While Fromm and Merrick are some of the most popular dog food brands in the market, each has its advantages and shortcomings that you need to be aware of.
Although both brands meet the optimum levels of protein set by the AAFCO, Merrick guarantees about 8.5% more protein than Fromm. However, Fromm has had fewer recalls, and its products are less expensive than Merrick dog foods. Both brands use high quality, human-grade locally-sourced ingredients.
In this article, we'll compare the two brands, highlighting the key differences in their nutrient content, ingredient quality, brand history, product safety, and price and value. We'll also comprehensively cover the pros and cons of each brand to guide you on which dog food is best for your dog.
Brand Origin and History
Before we begin our comparison between the two brands, let's learn a little about their history, products, and background.
Fromm Family Foods
The Fromm brand of dog food has been around for more than a century. Yes, you heard that correctly! Fromm has been producing pet food since 1904. The brand is owned and operated by the Fromm family and is dedicated to creating quality products for the health and nutrition of pets.
The company has a USDA-approved plant in Wisconsin, USA, where it produces all its dry treats and pet food, while it does the manufacturing of its wet and canned foods from its other facility in South Dakota.
None of its ingredients is sourced from China. It uses premium-quality, human-grade ingredients, and each recipe is protein-rich and nutritionally balanced. Also, their suppliers must meet the requirements set by the company's Approved Supplier Program.
Fromm offers a variety of recipes to meet the needs of different dog sizes, ages, and lifestyles. The company has 3 product lines:
Fromm Family Classics – The products in this line are dry recipes made from chicken and formulated for adult and senior dogs.
Fromm Gold – Probably the company's most popular line of dog food, it has three categories of food: Fromm Heartland Gold, Fromm Gold Coast, and Fromm Gold, each consisting of different recipes formulated with various protein sources and ingredients. They are suited to dogs from different stages of life, which means you can feed your dog any recipe from the line from puppyhood through old age.
Fromm Four-Star Nutritionals – It has 23 different recipes, each formulated with different meat and protein sources. All the recipes in this line of dog food cater to different stages of life in a dog.
Fromm also offers a collection of paté recipes, which serves as the company's version of wet dog food. All Fromm foods are AAFCO-certified as nutritionally complete and balanced. With the foundation of the company built on family values, you can expect them to produce quality dog food that keeps the whole family happy.
Merrick Dog Foods
The Merrick pet food brand was established in 1988 and has developed a good and reputable name for itself in the industry. It started as a family-owned and operated business and was founded on the belief that pets should be fed only the freshest, highest quality foods. However, it was sold to Nestle Purina PetCare in 2015 and has continued to operate as an independent business.
Merrick uses high-quality ingredients in its food, which is why many pet parents love the brand. Each ingredient is USDA-approved and is sourced from local growers and family farms. None are imported from China. Their foods contain no soy, corn, artificial colors, and flavors, or chemical preservatives.
Merrick does all its manufacturing in the United States, from its three company-owned plants in Hereford, Texas. Merrick also operates its own cannery, which is not very common among most pet food brands.
Merrick has a large selection of formulas, with over 200 highly nutritious recipes containing different protein sources. The different categories of recipes include Merrick Classic, Merrick Grain-Free, Merrick Limited Ingredient Diet, Merrick Backcountry, Merrick Backcountry Raw, and Merrick Treats.
There are plenty of "with grain' and grain-free recipes to choose from, depending on your dog's needs, health requirements, and preferences.
Fromm vs. Merrick: Guaranteed Analysis of Nutrients
According to the regulations established by the Association of American Feed Control Officials (AAFCO), every pet food must have a guaranteed analysis of nutrients on their food label. The guaranteed analysis provides information on the levels of crude protein and crude fat, and crude fiber and moisture.
The term "crude" explains the method of determining the nutrient content of the product and has nothing to do with the quality of the nutrient. If the product makes a claim about any other nutrient, it may be included in the guaranteed analysis, depending on the regulations.
We'll compare the nutrient content in each dog food brand, including the crude protein, crude fat, and crude fiber. To make a meaningful comparison between the two brands, the percentages are evaluated on a dry matter basis.
Below are a table and a diagram comparing the nutrients in the dry dog food of each brand.
| | | |
| --- | --- | --- |
| Dry Dog Food | Fromm | Merrick |
| Crude Protein | 28.7% | 37.2% |
| Crude Fat | 16.6% | 17.0% |
| Crude Fiber | 6.7% | 4.3% |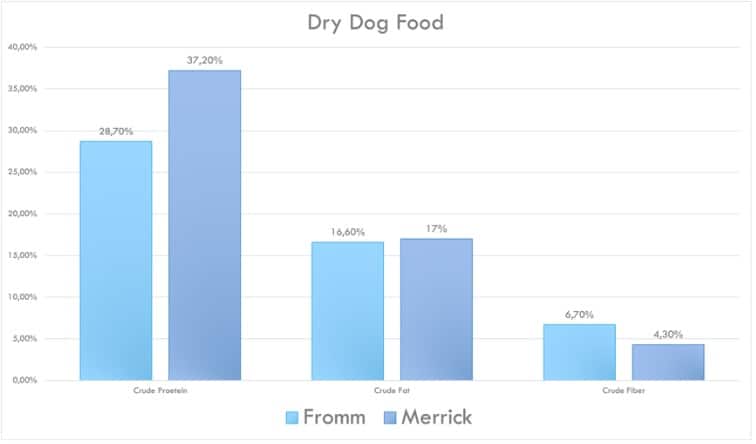 Below are a table and a diagram comparing the nutrients in the Wet/Canned Dog Food food of each brand.
| | | |
| --- | --- | --- |
| Wet/Canned Dog Food | Fromm | Merrick |
| Crude Protein | 40.7% | 43.8% |
| Crude Fat | 21.3% | 20.9% |
| Crude Fiber | 6.5% | 8.6% |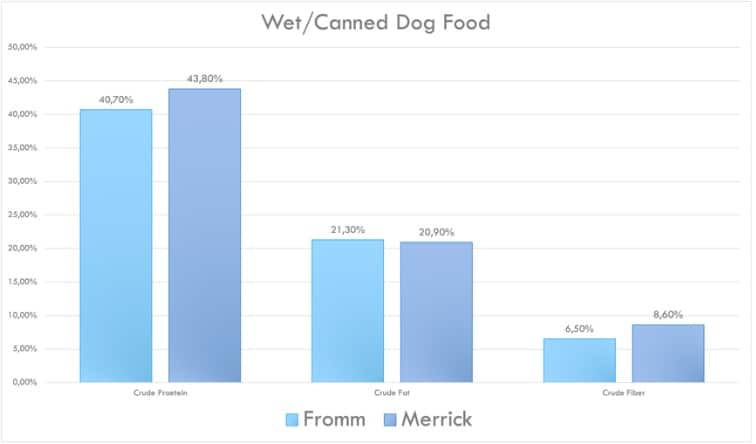 Crude Protein Comparison
Feeding your dog a high protein food is essential for the growth and maintenance of his body tissues. Proteins contain micronutrients known as amino acids essential for building your dog's hair, muscles, hair, cartilage, tendons, and ligaments. According to the AAFCO, puppies and pregnant and nursing dogs, the minimum level of crude protein is 22.0%.
Also, the minimum level of crude protein than adult maintenance dogs need is 18.0%—all on a dry matter basis. If you take a look at the dry dog food table above, you'll notice that both brands provide sufficient amounts of protein. However, Merrick guarantees about 8.5% more protein than Fromm.
For wet dog foods also, Merrick provides about 3.12% more protein than Fromm.
Crude Fat Comparison
Crude fat is the level of fat in your dog's food before he digests and metabolizes it. For adult dogs, the minimum level of crude fat should be around 5 to 15 percent and 8 to 20 percent for puppies.
Both Fromm and Merrick provide a solid amount of crude fat, and the difference between them is relatively insignificant. As for their wet dog food, they are almost the same, with Fromm providing just 0.4% crude fat more than Merrick.
Crude Fiber Comparison
A diet rich in fiber is very important for your dog. Fiber aids in digestion and can help to reduce the risk of colon cancer, diarrhea, and constipation. It is also effective in managing weight loss and dog's food cravings.
In many dog foods, the average crude fiber content is between 2.5% to 4.5%. These are the levels where nutrient digestibility is maximized. The crude fiber levels in both Fromm and Merrick are acceptable.
Both brands guarantee roughly the same percentage of crude fiber, with Fromm providing 2.4% more fiber. Also, there is a small difference between them in terms of wet dog food, with Merrick guaranteeing 2.1% more.
Fromm vs. Merrick: Ingredients Comparison
Both brands use several ingredients in their products to provide dogs with the best nutritional value possible.
Protein
Dogs require 22 amino acids, 12 are naturally produced in their body, but the remaining ten must come from their diet. Animal proteins are great sources of protein as they can provide dogs and other pets with all the amino acids they need.
Both Fromm and Merrick use animal proteins as their primary ingredients. Some of them include chicken, fish, turkey, bison, pork, venison, lamb, gamebird, and duck.
Fats
Most pet foods use at least one source of fatty acids, which can be animal fats or plant seed oils. Fat provides your dog with energy, skin cushioning, and insulation, and contributes to a healthy weight and lifestyle. Fats from animals are the best sources of fats for dog foods.
Fromm does not include trans-fats and saturated fats in its pet foods. It uses essential fatty acids and unsaturated fats in the right proportions to provide dogs with the fat they need for cellular integrity, brain development, and hormone production. Some of these ingredients include chicken fat, beef liver, and oils such as salmon oil. It does not use any meat by-products.
Merrick foods contain salmon meal, which provides plenty of essential oils and good fats. Merrick also uses flaxseed oil, which is a good source of omega-3-fatty acids, though controversial.
Carbohydrates
Healthy carbs are important to provide your dog with vitamins, minerals, and phytonutrients. However, you need to avoid dog foods that contain added sugars or white flour as they can cause behavioral problems in dogs.
Merrick uses sweet potatoes as one of its sources of carbohydrates. Sweet potatoes are gluten-free and grain-free and also contain beta-carotene and plenty of fiber. They also use regular white potatoes as a source of carbohydrate as they contain antioxidants, fiber, potassium, iron, and B vitamins.
Many of Fromm's recipes are grain-free. The company includes lentils, chickpeas, and other legumes at its source of carbohydrates. Some of the recipes contain more fruits and vegetables than others. The overall calorie content in Fromm dog foods is ideal for most dogs.
Micronutrients
In addition to important vitamins and minerals, Fromm contains prebiotics, probiotics, chondroitin, and essential fatty acids. Merrick dog foods also contain prebiotics and probiotics for improving your dog's gut health and immune system.
Controversial Ingredients
Controversial ingredients aren't always "bad." However, some of them can cause problems in some dogs more than others. Here are some of the controversial ingredients used by both brands.
Tomato Pomace
Tomato pomace is a by-product obtained from processing tomatoes into juice. Although it contains fiber, which aids digestion and bioflavonoids that helps to fight free radicals, tomato pomace is also seen as a pet food filler.
Its nutritional value is also debatable as it depends largely on the quality of the tomatoes from which it is derived. Tomato pomace obtained from high-quality tomatoes will contain antioxidants and important vitamins such as Vitamin C, Vitamin K1, and Potassium. Low-quality tomatoes will only contain a small amount of these vitamins and antioxidants.
Only Fromm uses tomato pomace in their pet foods.
Brewers Yeast
While brewers yeast is rich in B vitamins and amino acids, some believe it can be linked to allergies. Although these claims may not be completely true, it may be better to avoid foods that use yeast as an ingredient if your dog is allergic to it.
Only Fromm use brewers yeast in their pet foods.
Flaxseed
Flaxseed is a great source of healthy omega-3 fatty acid and soluble fiber. It is also a great source of protein. However, raw flax plants contain cyanogenic glycosides, which can result in cyanide poisoning. Although processing can remove this toxic component, it can cause problems such as vomiting and diarrhea if your dog consumes it in large quantities.
Both Fromm and Merrick use flaxseed in their pet foods.
Cheese
Although it contains calcium, protein, vitamin A, essential fatty acids, and B vitamins, cheese is high in fat. It is especially a problem for dogs who are lactose intolerant or with allergies.
Only Fromm uses cheese as an ingredient in their dog foods.
Other Controversial Ingredients
Fromm and Merrick use alfalfa meal, which is more associated with horse feed. Other ingredients include pearled barley and brown rice, which, apart from their energy content, only provide your dog with a small nutritional value.
Recall History of Both Brands
Recalls are made to ensure food safety for dogs. Some dog food recalls are voluntary when brands make in-house investigations and find out some of their products don't meet certain food safety requirements. The number of recalls a company has had can be a factor when determining the quality of their products.
Fromm Recall History
In terms of food safety, Fromm has maintained quite a good record compared to other brands. It has only been recalled once. On March 18, 2016, Fromm voluntarily recalled 3 of its 12-ounce Fromm Gold canned dog foods due to elevated levels of vitamin D.
The three products included the Fromm Gold Chicken Pate Dog Food, Fromm Gold Chicken & Duck, and Fromm Gold Salmon & Chicken Pate. The recall was made out of an abundance of caution, and no customer reported any health problems.
Merrick Recall History
Unfortunately, Merrick has been recalled quite a number of times. All Merrick recalls have been due to potential salmonella contamination. In July 2010, the FDA issued a recall for two of Merrick's products, the Beef Filet Squares, due to potential contamination of Salmonella bacteria.
In August 2010, Merrick further expanded the list of products to include 83 cases of the Merrick Texas Hold 'ems also due to potential Salmonella contamination. In January 2011, Merrick had to recall all of its Junior Texas Taffy pet treats, again due to potential Salmonella contamination.
The list of recalls continued in August 2011 when the FDA warned that Merrick's Doggie Wishbone pet treats might contain Salmonella bacteria. It is worth noting that all Merrick recalls were before Purina acquired the company.
Price Comparison
When it comes to choosing the best food for your dog, your budget is one of the things you have to consider. Both Fromm and Merrick use high-quality ingredients, so you can expect them to be a little more expensive than your average kibble. Using a cost per calories and cot per pound method, we'll compare the cost of both brands.
Dry Dog Food Comparison
| | | |
| --- | --- | --- |
| Dry Dog Food | Fromm | Merrick |
| Per Pound | $2.35 | $4.87 |
| Per Calorie | $0.0014 | $0.0029 |
Wet Dog Food Comparison
| | | |
| --- | --- | --- |
| Wet Dog Food | Fromm | Merrick |
| Per Pound | $4.10 | $4.72 |
| Per Calorie | $0.0100 | $0.0108 |
From the price comparison table, Merrick dry dog foods are more expensive than Fromm on a pound for pound basis. In terms of cost per calories, Merrick also costs more as it uses more calories in the same amount of dog food. The same can be said about the wet dog food price comparison.
While Fromm and Merrick are top brands in the dog food industry, each has its pros and cons. Here are some of them.
Pros of Fromm Dog Food
Fromm uses locally, high-quality animal proteins and ingredients.
Its dog foods are soy, corn, and gluten-free.
It does not contain by-product meals or artificial preservatives.
Its formulations include prebiotics and probiotics.
Fromm has recipes for all life-stages and health needs.
It has strict in-house food safety and nutritional requirements.
Cons of Fromm Dog Food
One recall history for elevated levels of vitamin D.
Fromm uses some controversial ingredients in its products.
Pros of Merrick Dog Food
Ingredients are high-quality and locally sourced.
Merrick dog foods do not contain artificial ingredients, coloring, or preservatives.
Its products contain higher protein counts.
Products are subject to rigorous food safety checks and tests.
Offers a variety of recipes for dogs in all life stages.
Cons of Merrick Dog Food
Merrick's acquisition by Nestle Purina PetCare in 2015 has raised concerns about the quality of their products.
Merrick includes controversial ingredients in their foods.
Disappointing number of recalls.
Merrick dog foods are more expensive than most brands in the same class.
Conclusion
Ultimately, the pet food brand you'll choose will depend on your dog's needs. Both brands are top brands that use only the highest quality ingredients in their products. Merrick provides more in terms of levels of protein; however, it is more expensive than Fromm. Merrick also offers more recipes and formulas than Fromm.
If you're choosing based on food safety reasons, Fromm is the clear winner as it has had fewer recalls. Both brands offer a wide variety of flavors, and we're sure your dog will love whichever brand you choose.
Related Articles
Sources
Mrdogfood.com is a participant in the Amazon Services LLC Associates Program, an affiliate advertising program designed to provide a means for sites to earn advertising fees by advertising and linking to Amazon.com. We also participate in other affiliate programs which compensate us for referring traffic.